How in a state of political and economical turmoil the financial ecosystem is changing by adopting Cryptocurrencies?
Cryptocurrencies were invented with an idea to revolutionize the financial ecosystems all around the world. But our latest research shows that it has now translated into something bigger. In politically or economically vulnerable countries, cryptocurrencies adoption is found to be higher than the global average, marking that people's trust in their government has lessened, and they are looking for an alternative medium of exchange among themselves to wither away the liabilities of a failed ecosystem.
Before we start the analysis of our results, here is a list of assumptions and selection criteria that we have made in this research:
Data for bitcoin volume for each country is in their national currency. That's why we have used the rate of change in volume for deriving results.

We consider countries with political risk index greater than or equal to 3 to be risky. However, for some countries with a low political risk index, their economic vulnerabilities are also considered, and if such a country is facing a financial crisis, we assume it to be in a state of unrest.

We have excluded countries that do not have enough resources to access the internet or know about cryptocurrency, as they will introduce outliers in our results that will produce irrelevant results.
The chart below shows the political risk index of the countries selected for this study.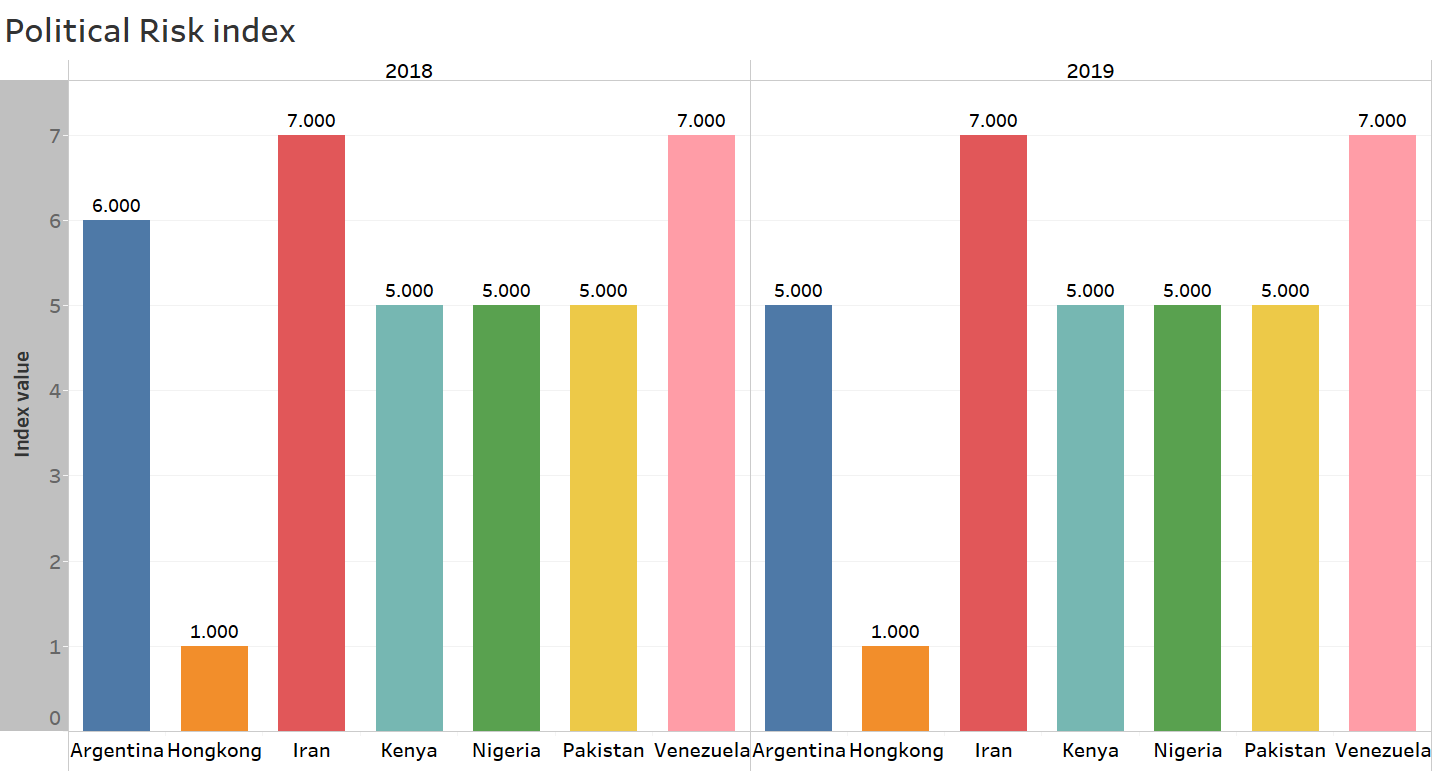 There is little to no change in the political risk rankings of countries selected from 2018 to 2019, but all these countries do have index rankings greater than three except for Hongkong, for which In 2019, there have been numerous protests regarding Anti-Extradition Law Amendment Bill. Because of which the country's political risk measure should be higher. But as they started in June this year and have only gained a lot of attention recently, the political risk measure may not exactly be accurate to estimate political instability considering the events in September-October 2019.
This year the globally, the weekly volume traded of bitcoin increased at a rate of 0.306% on average. Last year this figure was 0.26%. The bar chart below shows that in countries with a high level of instability, this measure was far greater than the global average.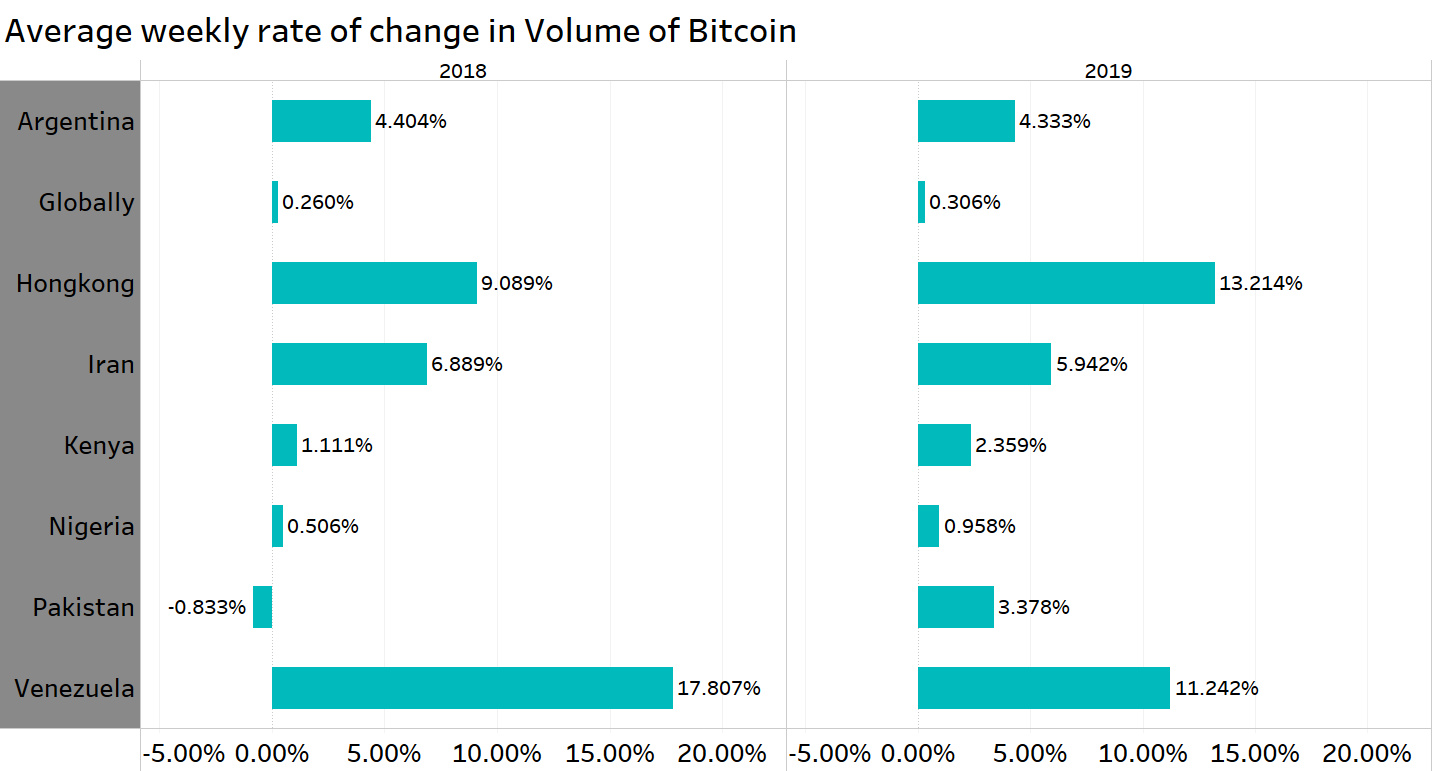 Notice that this rate in Hongkong has spiked up significantly by almost 4.125%. This may be because of the ongoing movement in Hongkong. There has been news that local businesses in Hongkong are accepting bitcoin as a medium of exchange for their goods and services.
The example of Hongkong is a perfect way to see how bitcoin works as a solution when centralized structures fail to respect the privacy of individuals.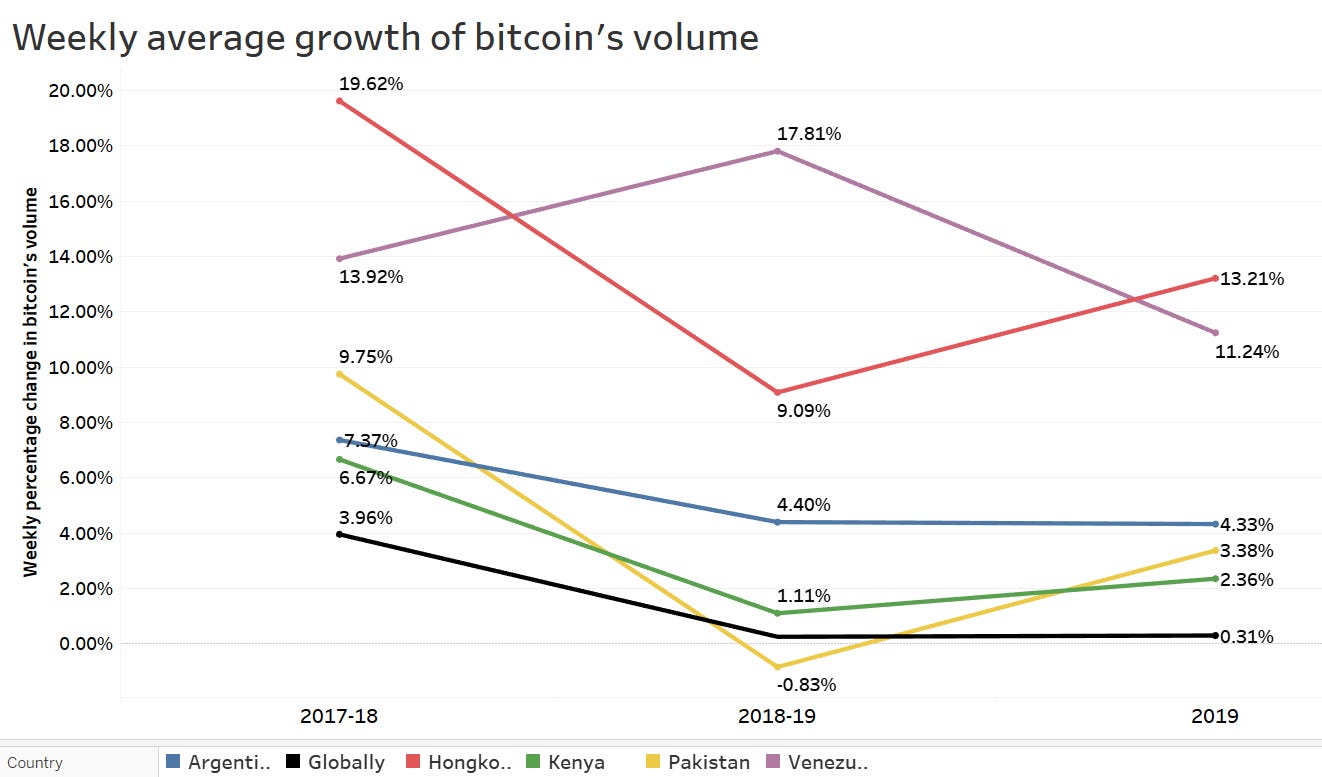 The above chart shows the line of the Global rate of weekly change in volume is almost lowest at all points, which supports our results.
An important remark to make at this point will be that it is not that bitcoin adoption leads to political and economic unrest in states. Rather the correlation mentioned in our study says that quite the opposite is true.
Bitcoin is making remarkable changes in the way people protest and show their trustlessness against the state. However, it is crucial that governments recognize that people on a macro level are polarising towards bitcoin and cryptocurrencies because such a financial ecosystem works for them. This goes for systems with political vulnerabilities, as well. Corruption is high among all regions included in our study, which also shows why people are more inclined to use blockchain technology. 
---
Tweet of the Week:
---
This week in Crypto: